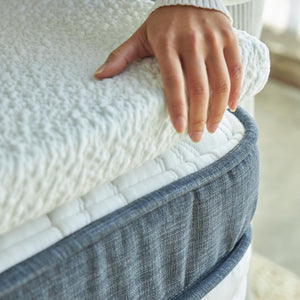 PRODUCT DESCRIPTION
A 2" memory foam mattress topper is a luxurious and comfortable addition to any bed. Made from high-quality memory foam material, it conforms to your body shape, providing excellent pressure relief and support for your muscles and joints. This topper helps distribute your body weight evenly, which reduces tossing and turning during the night and ensures you get a restful sleep.
The 2" thickness of the memory foam topper is the perfect balance between comfort and support. It is thick enough to provide a plush, cushioned surface to lie on, but not too thick that it feels like sinking in too deep. The memory foam material contours to your body shape, providing a personalized and comfortable sleep experience. Additionally, the foam is breathable and temperature-sensitive, meaning it adjusts to your body's temperature, keeping you cool in the summer and warm in the winter.
The topper is designed to fit snugly over your mattress, and its elastic straps keep it securely in place. It is easy to install and remove, making it convenient to clean and maintain. With a 2" memory foam mattress topper, you can upgrade your sleep experience and wake up feeling refreshed and rejuvenated every day.
Twin 2" x 38" x 75"
Full 2" x 53" x 75"
Queen 2" x 60" x 80"
King 2" x 76" x 80"
class='wk_hide_element' and style='display: none'